COASTAL VIRGINIA'S EASTERN SHORE
The Upper Shore

Chincoteague

CHINCOTEAGUE ISLAND
The Upper Region of Virginia's Eastern Shore is widely known for its pristine ocean beaches, abundant wildlife, and delicious seafood. Home to Chincoteague Island, Virginia's only island resort, this picturesque fishing village is the gateway to the Chincoteague National Wildlife Refuge and Assateague National Seashore. Visitors can relax in this unspoiled setting, strolling miles of golden beaches,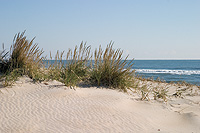 seeing the wild ponies made famous by Marguerite Henry's children's classic, "Misty of Chincoteague." Literally hundreds of species of waterfowl and wildlife flourish in this natural paradise. In the Town of Chincoteague, vacationers can enjoy excellent seafood restaurants and quaint shops - many within walking distance of the Island's bed and breakfasts. Biking, kayaking, boating, crabbing, clamming, and fishing are popular activities in this part of Virginia and, of course, the annual Pony Swim in July attracts visitors from all over the world. Wallops Island NASA Visitor's Center is a convenient stop on your way to or from your Chincoteague bed and breakfast.
Another small town that offer a true experience of Virginia's Eastern Shore is New Church:
NEW CHURCH
A quiet, rural setting and is located within driving distance of the Chesapeake Bay, and to other towns and attractions along Route 13, such as restaurants and a well-known winery.